1998 BMW M3 4-door (E36)
A brief history of my track car. Purchased new in June of 1998 as a daily driver. One of the last 4-door M3's produced.
Techno Violet with Mulberry Interior
Sunroof
Harmen Kardon upgraded Stereo with 6 CD Changer
Heated Seats
Split folding rear seats

Most of the stock interior is available for sale. Please check

here

.
2002-2004 Modified for Driving Schools
Racing Dynamics Front Stressbar
Evolution Cold Air Intake • Shark Injector Chip upgrade
X-Brace
PF97 Front Pads
PF "Z" Rear Pads
SS Brake lines
UUC Short shifter with front bushing
Ground Control - Race coil-over kit with Koni single adjustable struts, bumpstops, • Eibach ERS 500 lbs springs
Kosei K1 Racing Silver track wheels – 3 sets • Toyo RA-1 track tires
Suzika GT Race Seats – (driver and passenger)
HMS Bolt-in Rollbar
IO Port Camera mount
JT-Designs Aluminum Underpanel
Late 2004 Converted into a BMW CCA Club Racecar (I-Prepared)
Full I-Prepared custom cage to rear shock towers • Interior removed – Carpet, rear seats, headliner, door panels, etc • Window net • Center net • Wink Mirror • Momo detachable steering wheel • Hotlap Timer • 4-nozzel Firecharger extinguisher system • Emergency shutoff switch • PF-01 front pads and PF-97 rear pads • Turner Brake cooling kit • Eibach ERS springs, 650/700 lbs • Rear upper shock mounts • Sway bars - Racing Dynamics (front, rear removed) • TMS Trailing Arm Bushing Limiter Kit • New Front aluminum control arms & Tie rods • Hoosier S03 – 3 sets • Rolled fenders (slight) • UUC Exhaust • Turner Track Pipe • New water pump • Bimmerworld driveline stabilizer • New lightweight flywheel and M5 clutch • Fluidyne Racing radiator • Shift light • Lightweight battery • UUC Transmission Mount Enforcer Kit • Rogue Finned Differential cover • Schroth 6 Point Harness HANS compatible belts • LTW rear wing (replica) • Front splitter • All red-line fluids • Weight dry without driver is 2,882 lbs.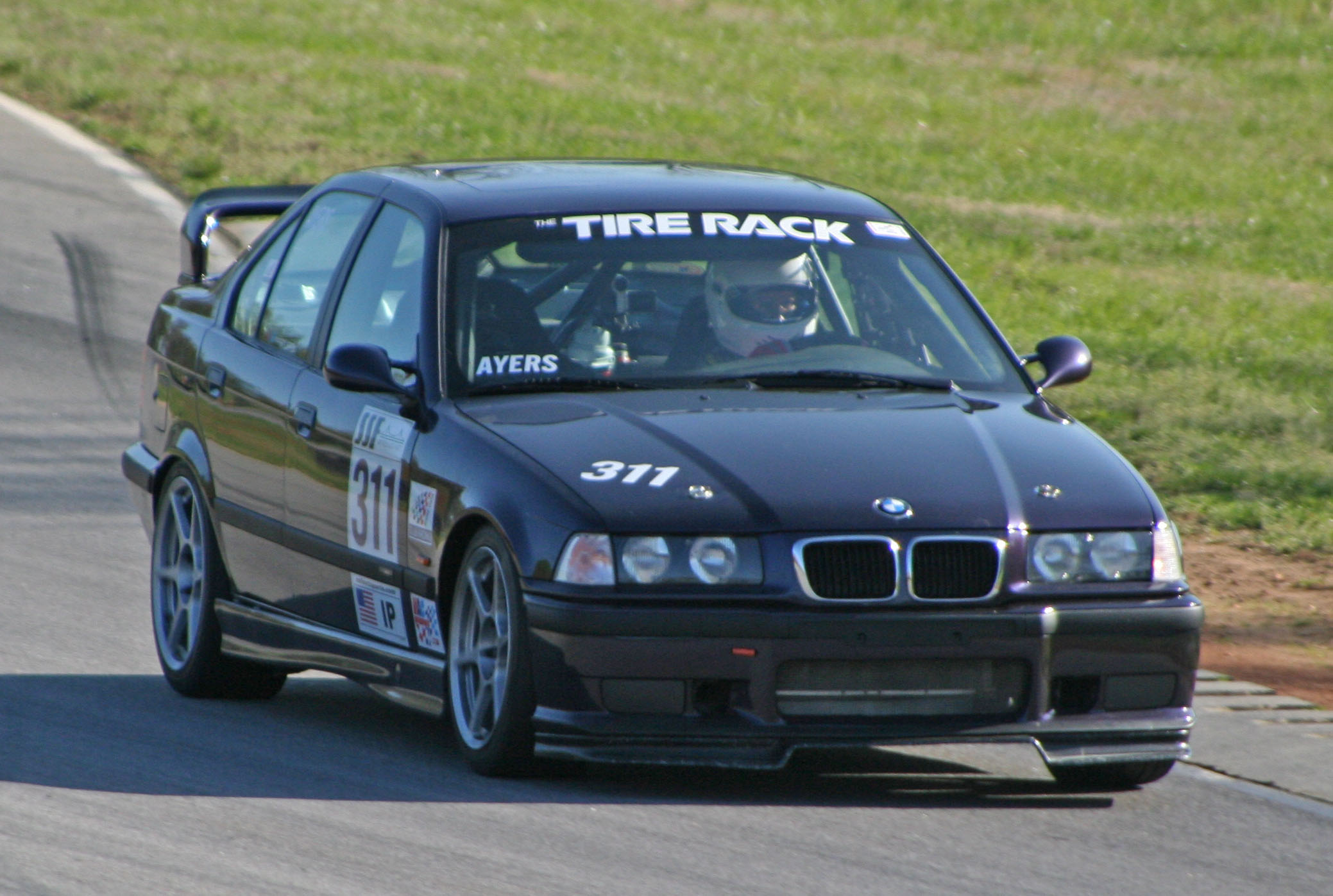 Late 2005 - Preparations for the 2006 season
New lightweight flywheel and M5 clutch • Standard battery • Rebuilt motor (IP spec: .020 OEM pistons, new springs, new valves, valves retainers, rods, head bolts, cleaned injectors) • replaced SS brake lines • calipers rebuilt • New M5 clutch • Lightweight flywheel • Center Net • Additional external cut off switch • New starter motor • New car numbers • Reworked throttle pedal and cables • Tested fuel pumps • Replaced passenger side front wheel bearings and control arm • Additional cage foot padding • Enlarged seatbelt backing plates • New cage belt clamps • Aluminum rear bulkhead • Filled all chassis holes • Replaced hood pins • Diffs-Online 3.73 Diff • Dyno'ed to break-in motor • New K-1 rim set • PBOC Decals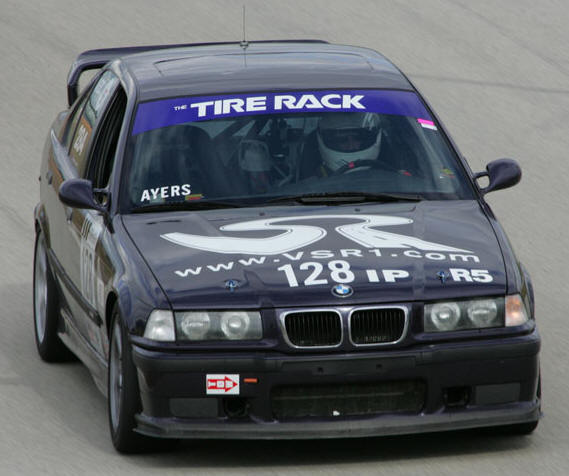 The car was converted and is maintained at Vintage Sports and Racing (VSR) by Mario Langsten